View WriteWayPro Screenshots
Click on image for larger view!
Watch WriteWayPro Tutorials
Click on video for overview of features!
Visit our Tutorials page for more videos.

WriteWayPro Professional Edition
Organize -- Collect and record all of your ideas, notes, photos, reference sources, character information, etc. No more sticky notes, spiral pads, index cards, or cocktail napkins to dig through or misplace!
Outline -- Build your book outline on the fly and make changes using simple drag-and-drop controls. Your book can be organized using 1 to 9 Acts
Composition -- Compose your manuscript using WriteWayPro's powerful word processor, from which you can either directly print your submission-ready manuscript or export as an RTF file for use in the word processor of your choice
Dictionary and Thesaurus -- Spell-check using WriteWayPro's built-in dictionary, which contains more than a quarter of a million words; access a myriad of synonyms with the system thesaurus
Story Notecards -- Sketch out the plot and scene ideas for your book--as vague or as detailed as you like--using from 1 to 9 digital NoteCards, accessible from anywhere within WriteWayPro
Character Profiles -- Generate and maintain detailed character profiles--complete with images you import from your computer or the web--and access your story's characters from anywhere in the system with one mouse click
Reports and Stats -- Dynamically monitor your word count by chapter, scene, and book; analyze your word usage to help you pinpoint and eliminate repetition in your manuscript (and those pesky adverbs that can bog down your prose
Word/Page Count Tracking -- Imagine, no more calculators, spreadsheets, or guesstimates when it comes to figuring out your daily word/page count production and projected manuscript completion dates! WriteWayPro's Count Tracking does the work for you and presents the data in a printable bar chart or tabular log format
Notecard Templates -- Jumpstart your novel using WriteWayPro's preloaded notecard templates, or design your own to suit your specific needs
Flexibility -- Whether you're a plotter or a seat-of-the-pantser, WriteWayPro is flexible enough to adapt to your unique way of writing. No rigid controls or forced methodologies -- write the way YOU write!

Storyboard -- View, update, or re-sequence your book's digital notecards in a visual "storyboard" layout, with options to view all, a user-selected few, or one notecard grouping at a time
Synopsis -- Compose your book's synopsis, with direct printing capability or export as an RTF file
Miscellaneous Pages -- Optionally create and maintain your manuscript's cover page, dedication, acknowledgments, author notes, glossary and bibliography, all with direct printing capability or export
Research Folders -- Collect and maintain annotations or source listings of your book's research and reference sources in easy-to-use folders, which allow for text and image/photo combinations, as well as URL hotlinks to websites you'd like to record and/or visit as you write your book
Future Book Ideas Folder -- Record your future story ideas directly in WriteWayPro Professional, which can later be moved to new book files as you begin work on future projects
ARCs/Galleys -- With a single click of your mouse, convert and print your manuscript into a professional-looking, two-column, single-spaced landscape format for use as advance review copies (ARCs, or galleys) for reviewers critique, beta readers, etc.
Import Capability -- Transfer your current work-in-progress from other word processors or programs to WriteWayPro Professional with a few easy clicks of your mouse!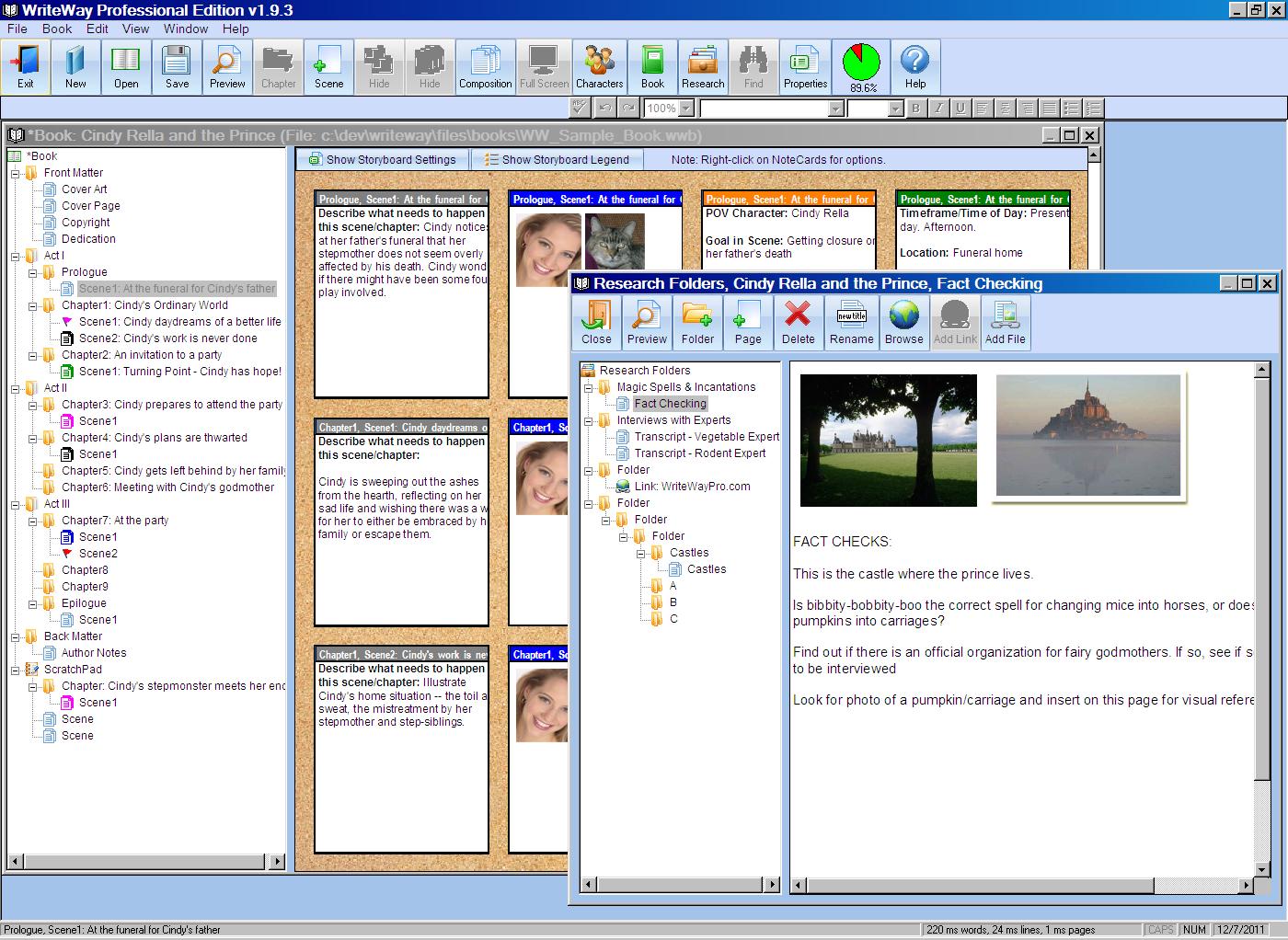 *NOTE: WriteWayPro Professional Edition utilizes the same program as the Free WriteWayPro Demo Edition. Registering your copy of the WriteWayPro Demo Edition activates it to the edition that you purchased.